Need help getting your research started? Not sure how to find and evaluate the best information? We're here to help.
Academic Liaison librarians support faculty and students through all phases of the research life cycle, including finding, evaluating, organizing, sharing, and saving your research.
We welcome your input to help us strengthen and build collections with an eye towards both current and future researchers—let us know what books, articles, data sets, etc. you need to take your research further. Remember: You should never pay for a journal article!
We're experts in teaching you and your students to find, evaluate, use, and manage information to support research and coursework.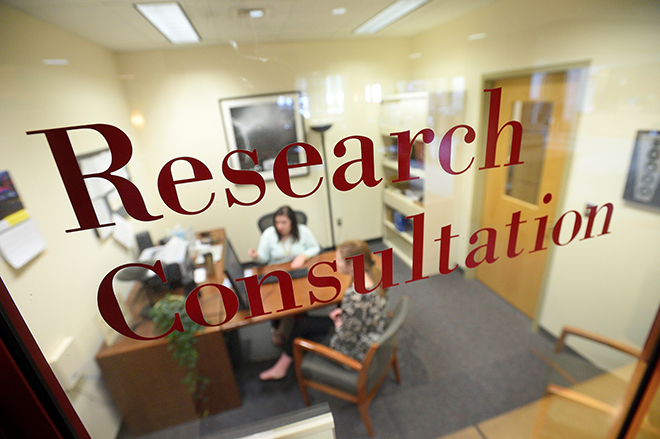 Name
Contact
Location
Subject Areas
Burri, Margaret

Assistant Director for Academic Liaison and Special Collections

410-516-8366
mburri@jhu.edu
Milton S. Eisenhower Library
Gillispie, Jim

Social Science Librarian for Public Health, Economics, and Government Information

410-516-8435
jeg@jhu.edu
Milton S. Eisenhower Library
Economics, Government Information, Public Health Studies
Herr, Heidi

Librarian for English, Philosophy, and Special Collections Student Engagement

410-516-4259
hherr1@jhu.edu
Brody Learning Commons
English, Philosophy, Writing Seminars
Juedes, Donald

Librarian

410-516-0605
djuedes@jhu.edu
Milton S. Eisenhower Library
Art History, Film/Media Studies, Near Eastern Studies
Stich, Stephen

Librarian

410-516-8357
sstich@jhu.edu
Milton S. Eisenhower Library
Chemical & Biomolecular Engineering, Chemistry, Civil Engineering, Earth & Planetary Science, Environmental Health & Engineering, Materials Science & Engineering, Mechanical Engineering
Tapager, Heather

Librarian

410-234-9286
htapager@jhu.edu
Carey Business School Harbor East, Milton S. Eisenhower Library
Business, Career Planning, Center for Leadership Education (CLE), Economics
Vazakas, Sue

Librarian

410-516-4153
svazakas@jhu.edu
Milton S. Eisenhower Library
Applied Mathematics & Statistics, Bioethics, Biomedical Engineering, Center for Leadership Education (CLE) Professional Communication Program, Computer Science & Information Security, Electrical/Computer Engineering, Mathematics, Public Health Studies
Ye, Yunshan

Librarian

410-516-8930
yye@jhu.edu
Milton S. Eisenhower Library
East Asian Studies, International Studies, Political Science
Acampora, Kristen

Creative Marketing Specialist

410-516-8336
kacampo1@jhu.edu
Milton S. Eisenhower Library
Everett, Joshua

Librarian for Sociology, Anthropology, and Area Studies

410-516-1231
joshuaeverett@jhu.edu
Milton S. Eisenhower Library
Anthropology, Islamic Studies, Latin American Studies, Sociology
Zalin, Mack

Librarian

410-516-0215
mzalin1@jhu.edu
Milton S. Eisenhower Library
Classics, Comparative Thought and Literature, Jewish Studies, Modern Languages and Literature
Furnas, Heather

Librarian for History, Africana Studies, and History of Science & Technology

hfurnas@jhu.edu
Milton S. Eisenhower Library
Africana Studies, History, History of Science and Technology
Troeschel, Katy

Technology and Entrepreneurship Librarian

ktroeschel@jhu.edu
Milton S. Eisenhower Library
Business, Entrepreneurship
Hélouvry, Joanne

Librarian for Psychology and Education

410-516-2461
jhelouvry@jhu.edu
Milton S. Eisenhower Library
Cognitive Science, Education, Neuroscience, Psychology
Evans, Siân

Online Programs Librarian

sevans66@jh.edu
Milton S. Eisenhower Library
Advanced Academic Programs (AAP), Engineering for Profressionals, Women, Gender, and Sexuality
McGinn, Emily

Digital Humanities Librarian

emcginn@jhu.edu
Milton S. Eisenhower Library
Digital Humanities