Albert D. Hutzler Reading Room
 The HUT will be closed for the summer and will reopen for the fall semester.

The Hutzler Reading Room (fondly known as "The HUT") is located in Gilman Hall, one of the earliest academic building on Homewood campus. The iconic reading room features a high ceiling and 19 beautiful stained-glass windows bearing the marks of Renaissance printers.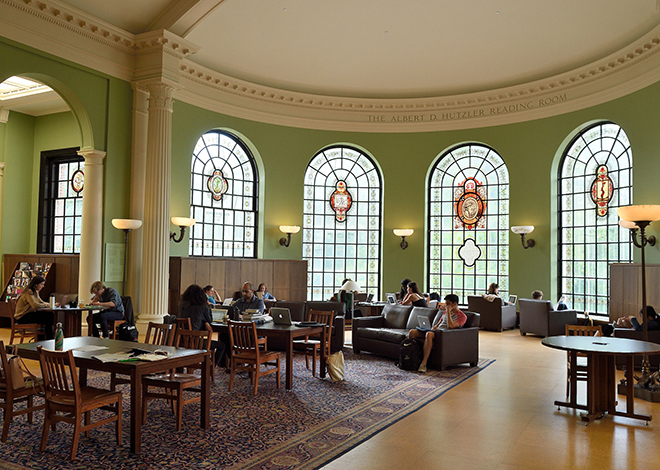 ---
Hours
January 16 - January 22

1/16

Sun

1/17

Mon

1/18

Tue

1/19

Wed

1/20

Thu

1/21

Fri

1/22

Sat
24 Hours
Closed
24 Hours
24 Hours
24 Hours
24 Hours
24 Hours

January 23 - January 29

1/23

Sun

1/24

Mon

1/25

Tue

1/26

Wed

1/27

Thu

1/28

Fri

1/29

Sat
24 Hours
24 Hours
24 Hours
24 Hours
24 Hours
24 Hours
24 Hours

January 30 - February 05

1/30

Sun

1/31

Mon

2/01

Tue

2/02

Wed

2/03

Thu

2/04

Fri

2/05

Sat
24 Hours
24 Hours
24 Hours
24 Hours
24 Hours
24 Hours
24 Hours

February 06 - February 12

2/06

Sun

2/07

Mon

2/08

Tue

2/09

Wed

2/10

Thu

2/11

Fri

2/12

Sat
24 Hours
24 Hours
24 Hours
24 Hours
24 Hours
24 Hours
24 Hours

February 13 - February 19

2/13

Sun

2/14

Mon

2/15

Tue

2/16

Wed

2/17

Thu

2/18

Fri

2/19

Sat
24 Hours
24 Hours
24 Hours
24 Hours
24 Hours
24 Hours
24 Hours

February 20 - February 26

2/20

Sun

2/21

Mon

2/22

Tue

2/23

Wed

2/24

Thu

2/25

Fri

2/26

Sat
24 Hours
24 Hours
24 Hours
24 Hours
24 Hours
24 Hours
24 Hours

February 27 - March 05

2/27

Sun

2/28

Mon

3/01

Tue

3/02

Wed

3/03

Thu

3/04

Fri

3/05

Sat
24 Hours
24 Hours
24 Hours
24 Hours
24 Hours
24 Hours
24 Hours

March 06 - March 12

3/06

Sun

3/07

Mon

3/08

Tue

3/09

Wed

3/10

Thu

3/11

Fri

3/12

Sat
24 Hours
24 Hours
24 Hours
24 Hours
24 Hours
24 Hours
24 Hours

March 13 - March 19

3/13

Sun

3/14

Mon

3/15

Tue

3/16

Wed

3/17

Thu

3/18

Fri

3/19

Sat
24 Hours
24 Hours
24 Hours
24 Hours
24 Hours
24 Hours
24 Hours

March 20 - March 26

3/20

Sun

3/21

Mon

3/22

Tue

3/23

Wed

3/24

Thu

3/25

Fri

3/26

Sat
24 Hours
24 Hours
24 Hours
24 Hours
24 Hours
24 Hours
24 Hours

March 27 - April 02

3/27

Sun

3/28

Mon

3/29

Tue

3/30

Wed

3/31

Thu

4/01

Fri

4/02

Sat
24 Hours
24 Hours
24 Hours
24 Hours
24 Hours
24 Hours
24 Hours

April 03 - April 09

4/03

Sun

4/04

Mon

4/05

Tue

4/06

Wed

4/07

Thu

4/08

Fri

4/09

Sat
24 Hours
24 Hours
24 Hours
24 Hours
24 Hours
24 Hours
24 Hours