John Work Garrett Library (Evergreen Museum & Library)
The John Work Garrett Library is closed until further notice as part of the university's COVID-19 response.
The Garrett Library is located in Evergreen Museum & Library, the former residence of Ambassador John Work Garrett and his wife, Alice Warder Garrett. The collection, which can be used by appointment, contains about 30,000 rare books with strengths in 16th and 17th-century English literature, natural history, and architecture.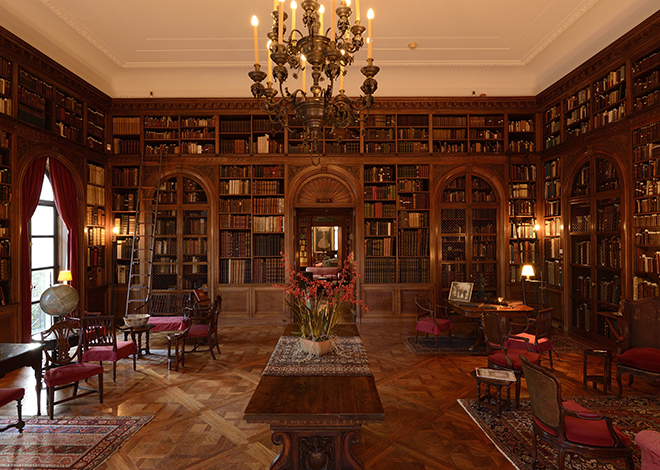 ---
Hours
August 01 - August 07

8/01

Sun

8/02

Mon

8/03

Tue

8/04

Wed

8/05

Thu

8/06

Fri

8/07

Sat
Closed
Closed
Closed
Closed
Closed
Closed
Closed

August 08 - August 14

8/08

Sun

8/09

Mon

8/10

Tue

8/11

Wed

8/12

Thu

8/13

Fri

8/14

Sat
Closed
Closed
Closed
Closed
Closed
Closed
Closed

August 15 - August 21

8/15

Sun

8/16

Mon

8/17

Tue

8/18

Wed

8/19

Thu

8/20

Fri

8/21

Sat
Closed
Closed
Closed
Closed
Closed
Closed
Closed

August 22 - August 28

8/22

Sun

8/23

Mon

8/24

Tue

8/25

Wed

8/26

Thu

8/27

Fri

8/28

Sat
Closed
Closed
Closed
Closed
Closed
Closed
TBD

August 29 - September 04

8/29

Sun

8/30

Mon

8/31

Tue

9/01

Wed

9/02

Thu

9/03

Fri

9/04

Sat
TBD
TBD
TBD
TBD
TBD
TBD
TBD

September 05 - September 11

9/05

Sun

9/06

Mon

9/07

Tue

9/08

Wed

9/09

Thu

9/10

Fri

9/11

Sat
TBD
TBD
TBD
TBD
TBD
TBD
TBD

September 12 - September 18

9/12

Sun

9/13

Mon

9/14

Tue

9/15

Wed

9/16

Thu

9/17

Fri

9/18

Sat
TBD
TBD
TBD
TBD
TBD
TBD
TBD

September 19 - September 25

9/19

Sun

9/20

Mon

9/21

Tue

9/22

Wed

9/23

Thu

9/24

Fri

9/25

Sat
TBD
TBD
TBD
TBD
TBD
TBD
TBD

September 26 - October 02

9/26

Sun

9/27

Mon

9/28

Tue

9/29

Wed

9/30

Thu

10/01

Fri

10/02

Sat
TBD
TBD
TBD
TBD
TBD
TBD
TBD

October 03 - October 09

10/03

Sun

10/04

Mon

10/05

Tue

10/06

Wed

10/07

Thu

10/08

Fri

10/09

Sat
TBD
TBD
TBD
TBD
TBD
TBD
TBD

October 10 - October 16

10/10

Sun

10/11

Mon

10/12

Tue

10/13

Wed

10/14

Thu

10/15

Fri

10/16

Sat
TBD
TBD
TBD
TBD
TBD
TBD
TBD

October 17 - October 23

10/17

Sun

10/18

Mon

10/19

Tue

10/20

Wed

10/21

Thu

10/22

Fri

10/23

Sat
TBD
TBD
TBD
TBD
TBD
TBD
TBD
Private Events Office
Book a special event at the Evergreen Library and Museum