Monica Blair
Position:
Historian & Education Coordinator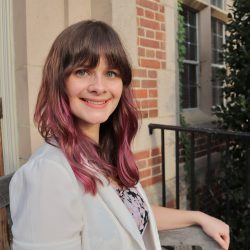 Location:
Milton S. Eisenhower Library

Department:
Special Collections, University Archives
Contact:
mblair19@jhu.edu
she/her/hers
Dr. Monica Kristin Blair is a public historian who specializes in histories of education and racial inequality in America. She currently works as the Historian & Education Coordinator for the Hopkins Retrospective Project at Johns Hopkins University. Dr. Blair has a Ph.D. in United States history from the University of Virginia and a background in research, teaching, and public and digital humanities. She believes that a combination of deep historical research and community-based approaches to public history are key to building just and inclusive educational spaces. Dr. Blair is also writing a book about the history of racial inequality in the K-12 school privatization movement entitled: Private Schools, Public Money: The Modern History of School Choice.
Education
PhD., United States History, University of Virginia, 2021
MA., History, University of Georgia, 2015
BA., History, University of Florida, 2013
Public History Experience
2022-Present, Historian & Education Coordinator, Hopkins Retrospective Project, Sheridan Libraries, Johns Hopkins University
2020-Present, Naming of Facilities Committee Member, Charlottesville City Schools, Charlottesville, Va
2021-2022: Postdoctoral Fellow & Executive Producer of The Past, The Promise, The Presidency podcast, Southern Methodist University
2018-2019: Lead Researcher, BackStory podcast, Virginia Humanities
2019: Researcher, Committee on Renaming, University of Virginia School of Education
2017-2018: Praxis Fellow, UVA Reveal, University of Virginia
2016: Graduate Researcher, The President's Commission on Slavery and Jefferson's University—the Early Life Project, University of Virginia
2012-2013: Archival Assistant, George A. Smathers Special Collections Library, University of Florida
2012-2013: Docent, Historic Haile Homestead at Kanapaha Plantation, Gainesville, Florida
2011: Intern, Samuel Proctor Oral History Program, University of Virginia
Teaching Experience
Instructor, US History Since WWII: People, Politics, Power, University of Virginia
Head Teaching Assistant, Whiteness: History of a Racial Category, University of Virginia
Teaching Assistant, Intro to American Studies, S. Foreign Policy Since 1914, University of Virginia
Teaching Assistant, US History to 1865, US History Since 1865, University of Georgia
Instructor, Civil and Environmental Law, Duke Talent Identification Program
Teaching Assistant, Government and Public Policy, Duke Talent Identification Program