The Return of Martin Guerre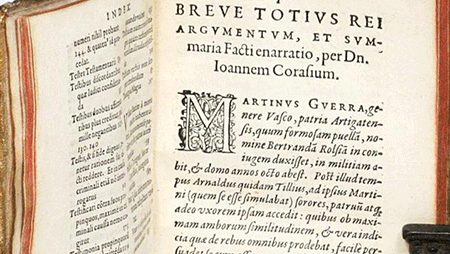 Jean De Coras, Arrestum sive Placitum Parlamenti Tholosani, continens historiam (In casu matrimoniali) admodum memorabilem (Frankfurt: A. Wechel, 1576).
Adopt this book for $3,000
This sensational sixteenth-century case of imposture had everything—an unhappy marriage, a sudden disappearance and a mysterious return, an accusation of impersonation, a possibly complicit wife, a family and a village divided, two dramatic trials, the sudden appearance of a surprise witness at a moment in the second trial when acquittal seemed imminent, a sudden reversal of fortune, the defendant's conviction, his public apology (declaring the wife to be an innocent victim), and his execution in front of the home of the man he impersonated. Among the luminaries of the court present at the trial, the learned Jean de Coras was assigned the task of reporter for the proceedings, which meant that he would look closely into the issues and finally prepare a report on all the arguments and make a recommendation for the sentence.
This extremely rare volume is the first Latin edition of Coras's account of the trial, and has great potential for teaching and translation by our curators, faculty, and students.