February 7 – April 17, 2023
M-level, Milton S. Eisenhower Library
Admission is free
Non-affiliate visitors will be asked to present photo ID and vaccination card at the Security Desk
---
Featuring materials drawn largely from the private collections of W. Paul Coates, founder and director of Black Classics Press, and Toni Tipton-Martin, editor of Cook's Country magazine and an award-winning cookbook author, this exhibition explores how cookbooks by Black authors serve not only as crucial repositories of African and African American culinary traditions, but also as sites of food innovation and cultural transformation.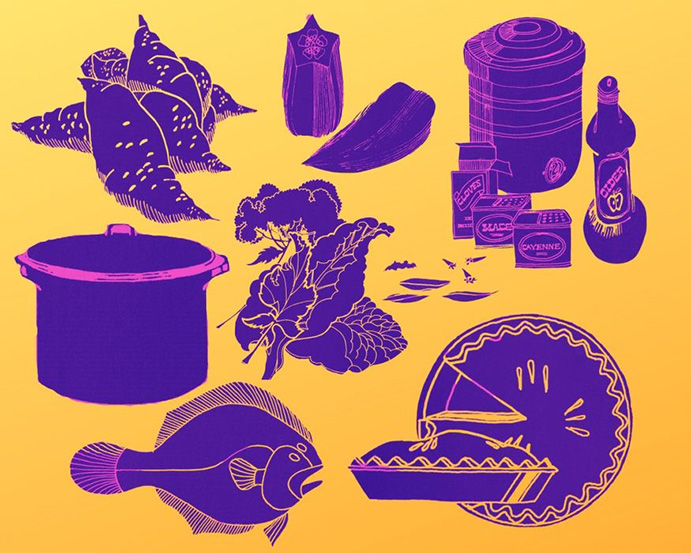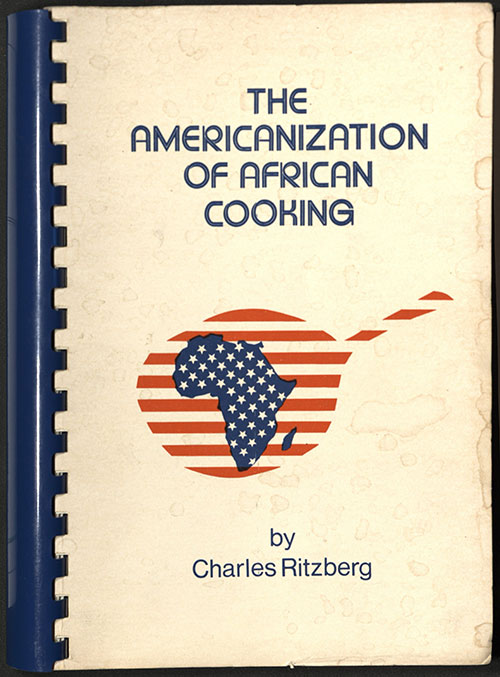 African cooking techniques, traditions, and flavors have traveled all over the world. This culinary diaspora was shaped initially by the brutalities of the transatlantic slave trade, which forced African people separated from their homelands to retain and reinvent traditional dishes, find and experiment with substitute ingredients, and pass down to their children the cultural significance of particular foods to nourish the soul as well as the body. In the twentieth century and through the present, migrations prompted by war, violence, and the search for economic opportunity have expanded the global reach of African and African-inspired fare. The gastronomic exchanges now go in all directions, as home-cooks and professional chefs in the Americas, the Caribbean, Europe, and Africa learn from each other and share the delights, comforts, and revelations of Black foodways.
Books about cooking by Black authors have facilitated these connections since the 1820s. Long before the printed cookbook, recipes were communicated orally, in handwritten notes, and through practical teaching in the kitchen. But cookbooks offer a way to formalize and fix knowledge and share it more widely. They serve not only as crucial repositories of Black culinary traditions, but also as sites of food innovation and cultural transformation.
The books on display come primarily from the W. Paul and Rosalyn L. Coates Global African Cookbook Collection and from the Collection of Toni Tipton-Martin, alongside a few exemplars from the Sheridan Libraries. We are grateful for the loans of these precious and tantalizing volumes.
Tonika Berkley, Africana Archivist
Gabrielle Dean, William Kurrelmeyer Curator of Rare Books and Manuscripts
Heidi Herr, Librarian for English, Philosophy, and Special Collections Student Engagement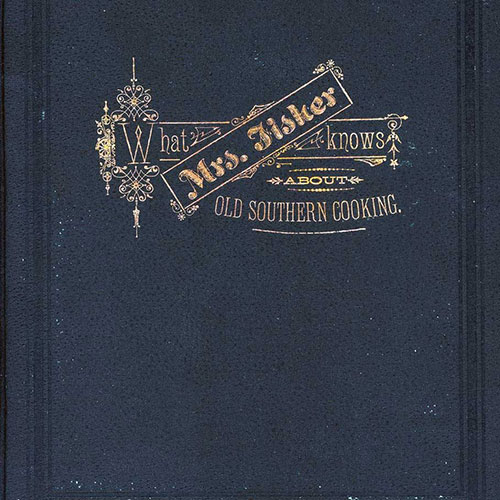 Join book conservators Lena Warren and Jennifer Jarvis, and librarian Heidi Herr, as they share the story of Abby Fisher, one of the first African-American cookbook authors.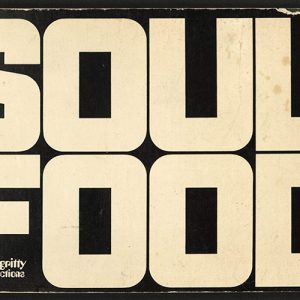 Discover how Hopkins faculty, archivists, and librarians are working to recognize the critical importance of foodways for Black people and Black life historically.
Black Foodways opening reception
Thursday, February 9
5:00-7:00 p.m.
Milton S. Eisenhower Library, Q-level
Free and open to all. Non-affiliate visitors will need to show proof of full COVID-19 vaccination and a government photo ID (e.g., driver's license or passport) to pass the security turnstiles and view the exhibition on M-level.
In honor of Black History Month, please join us for a celebration of Africana cuisine with the opening reception for Black Foodways: A Culinary Diaspora. There will be brief welcome remarks and refreshments.
Symposium—A Taste of Black Freedom: Black Foodways in Baltimore and Beyond
Thursday, February 9 and Friday, February 10
Scott-Bates Commons (Salon A & B), 3301 N. Charles Street, Baltimore 21218
Free and open to the public
The JHU Center for Africana Studies presents its 2022-23 symposium "A Taste of Black Freedom," exploring the history, politics, and knowledges of black foodways in Baltimore with local chefs, activists, restauranteurs, and scholars.
Program
2:00–4:00 p.m.
Black Cookbooks and the Politics of Black Food: A Conversation
Speakers: Toni Tipton Martin, W. Paul Coates, David Thomas, Tonya Thomas
10:00–11:45 a.m.
Black Study and Black Foodways
Speakers: Marcia Chatelain, Dominique Hazzard, OreOluwa Badaki
1:15–2:45 p.m.
Feeding the People: Black Chefs and Restaurants in Baltimore
Speakers: Damian Mosely, Heather Smith, ShaQuana Princess Anu Green
3:00–4:30 p.m.
Land and Freedom: Land, Farming, and Food Security
Speakers: Denzell Mitchell, Eric Jackson, Austen Monet-McClendon
---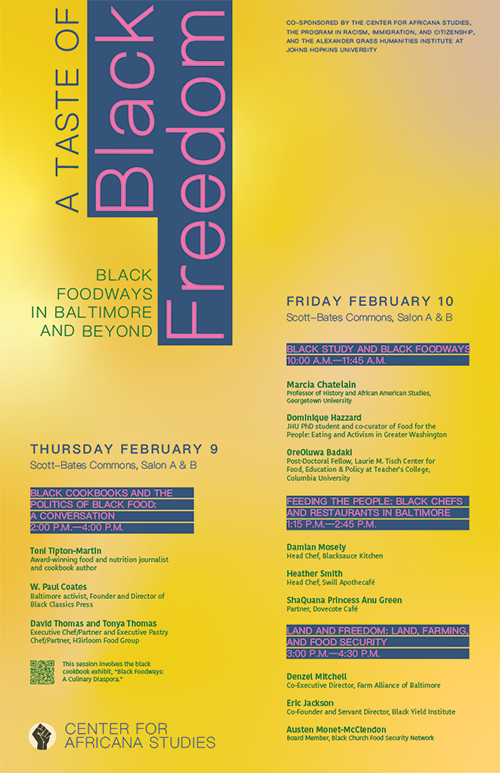 This exhibition is supported by the Trude and Joseph Alpert Book and Exhibit Fund. It is organized by the Johns Hopkins University Sheridan Libraries.
The Lunch with the Libraries speaker series is made possible by the Friends of the Johns Hopkins University Libraries, in partnership with the Office of Alumni Relations Lifelong Learning.