Ve'Amber Miller
Position:
Digital Content & Outreach Coordinator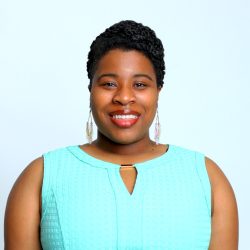 Location:
Milton S. Eisenhower Library

Department:
Special Collections
Contact:
vmille23@jhu.edu
she/her/hers
Ve'Amber D. Miller is a public historian working as the Digital Content and Outreach Coordinator for Hopkins Retrospective at Johns Hopkins University. She has a strong background in interpretation and the digital humanities, with a dedication to accessibility. Her research interests are in Black land ownership and use. She is interested in telling the stories of marginalized voices through channels that focus on equity, diversity, and inclusion.
Education
M.A., Public History, Loyola University Chicago, 2021
B.A., Archaeology; English and Creative Writing (Creative Writing Concentration), 2015
Certifications
Certificate in "Intermediate Methods of Interpretation" from the National Association of Interpretation and the Eppley Institute for Parks and Public Lands, 2022
Professional Experience
2023 – Present: Digital Content and Outreach Coordinator, Sheridan Libraries, The Johns Hopkins University
2017 – 2023: Park Ranger, Pullman National Historical Park, National Park Service
Communications Outreach Intern/Communications Associate, LGBTQ Religious Archives Network (2021 – 2022)
Museum Services Intern, Weir Farm National Historical Park, Student Conservation Association (2016 – 2017)