Elizabeth Beckman
Position:
Processing & Research Archivist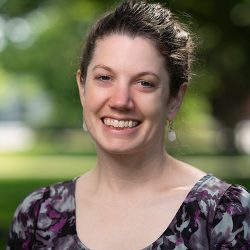 Location:
Milton S. Eisenhower Library

Department:
Special Collections, University Archives
Contact:
ebeckma3@jhu.edu
she/her/hers
Liz Beckman is a processing archivist working as part of the Hopkins Retrospective Project team. She is passionate about broadening access to archival resources and increasing the number and types of voices reflected in the archival record. Before coming to Hopkins, she worked as the Manuscripts and Archives Librarian at George Mason University in Fairfax, Virginia. She began working at Mason as the Processing Coordinator in 2014. Prior to this she had a variety of archives-related internships in Washington, D.C. and Pittsburgh, PA.