Lena Denis
Position:
Geospatial Data, GIS, and Maps Librarian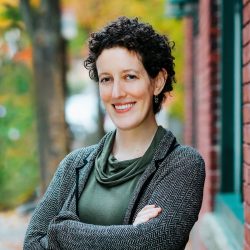 Location:
Milton S. Eisenhower Library

Department:
Data Services
Contact:
lena.denis@jhu.edu
Education
MS in Library & Information Science, Simmons University, 2016
MA in History of Art, Courtauld Institue of Art, 2013
BA in Anthropology & History of Art, Johns Hopkins University, 2011
Selected Presentations
Thorsen, H., Denis, L., Fernsebner Eslao, C., McGee, M., and Folsom, S. (2019). "Wikidata and Libraries as Partners in Data Production, Organization, and Project Inspiration." At WikidataCon 2019 in Berlin, Germany.
Denis, L. (2019). "Using Wikidata to Extract Cartographic Resources from Archival Collections." At the International Cartographic Association Conference on Digital Approaches to Cartographic Heritage (ICA DACH) in Thessaloniki, Greece.
Denis, L. (2019). "A Fine and Fertile Country: How America Mapped Its Meals." At the Mapping (In)justice Symposium in New York, NY.
Denis, L. (2019). "Bound Images as Linked Open Data: Examples from the Work of Erwin J. Raisz." At the From Sovereign Map to Bound Image workshop in Providence, RI.
Weimer, D. and Denis, L. (2018). "Harvard's Public Library: What the Birth of the Harvard Map Collection Can Tell Us about the Changing Meanings of Library Collections." At the American Philosophical Society's Past, Present, and Future of Libraries conference in Philadelphia, PA.
Selected Publications