Ann L. Koch
Position:
Interim Associate Dean of External Affairs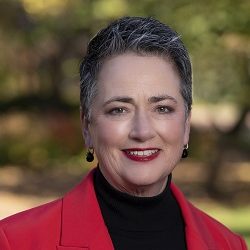 Location:
Milton S. Eisenhower Library

Department:
External Affairs
Contact:
akoch@jhu.edu
Ann Koch, Senior Director of Foundation Relations for the Johns Hopkins University, joined the Office of Foundation Relations in 2005 after serving as the Director of Development for the Sheridan Libraries for 9 years. In 2017, she was appointed Senior Director of Foundation Relations where she has been instrumental in helping to build relationships with the university's leading foundation donors and has worked closely with university leadership to secure foundation support for the institution's top priorities. Prior to her arrival at Johns Hopkins, she held development positions at the University of Chicago and the Newberry Library (Chicago). Ann graduated from the College of William and Mary with a Bachelor of Arts in Religious Studies. She also holds a Master of Arts in Humanities from the University of Chicago.