October 7, 2019 to March 1, 2020
City People: Black Baltimore in the Photographs of John Clark Mayden
Location: Exhibit Gallery
This exhibition presents over fifty of John Clark Mayden's black-and-white street portraits taken since the 1970s, many on view for the first time. These photographs capture the ordinary joys and sorrows, quiet moments, and daily realities of Baltimore's African American neighborhoods: kids on their bikes and roller skates, old timers catching a breeze on their front stoops, busy people striding through the snow, tired people taking a break. Through careful observation and local understanding, Mayden lays bare the beauty and heartbreak of everyday life, Black life, in an American city.
The exhibition celebrates a recent gift from the artist to the Sheridan Libraries. It is accompanied by a new publication from the Johns Hopkins University Press, featuring an essay by art historian Michael D. Harris.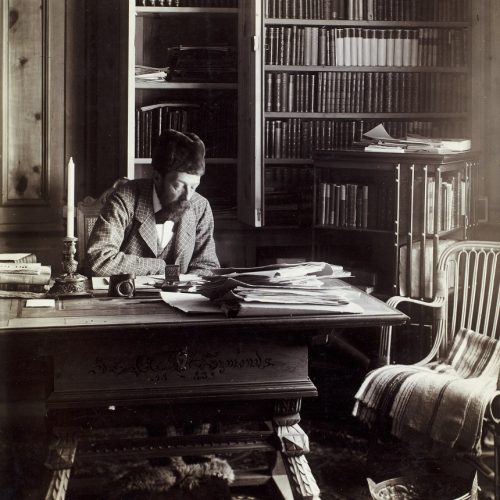 December 5, 2019 to March 13, 2020
Queer Connections: The Library of John Addington Symonds
Location: M Level Exhibit Space
John Addington Symonds (1840-1893) was a Victorian writer, book collector, and pioneering theorist of human sexuality. Prompted by personal experience, he searched for historical evidence of same-sex love and social support for relationships considered "deviant" in his own time. He found that evidence in Ancient Greece, inspiring his 1883 essay "A Problem in Greek Ethics"—a ground-breaking analysis of homosexuality in the ancient world that became a touchstone for the emerging gay rights movement.
Through his reading, writing, and collecting practices, Symonds also created a network of like-minded thinkers, artists, and writers. This exhibition—curated by faculty and student participants in the John Addington Symonds Project (JASP), the pilot iteration of the Classics Research Lab (CRL)—displays extracts from Symonds's library, a glimpse of the "queer connections" that sustained him and enabled his work.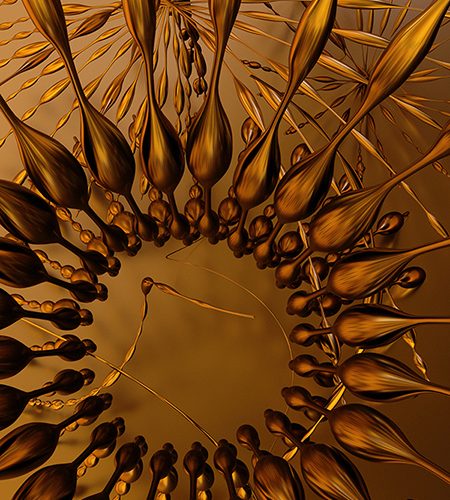 March 6, 2020 to April 10, 2020
Explorations of Invisible Domain: Work by Christopher Sloan
Location: Q Level Gallery
Opening Reception: Friday, March 6, 4:30 – 7:30pm
This exhibition features new work by the 2019 HEMI/MICA Artist-in-Residence, Christopher Sloan. Using Hopkins Extreme Materials Institute research projects as a starting point, Sloan aesthetically probed the nature of atoms and molecules in specific situations at extremely small scales. The result is a series of dreamlike and surreal landscapes that provide a vicarious—and somewhat fantastical—voyage into a world far beyond the range of unaided human vision.
An award-winning expert in bringing the principles of science to life for popular audiences, Sloan teaches data analytics and visualization at MICA, and modern approaches to science art online for the Academy of Art University in San Francisco.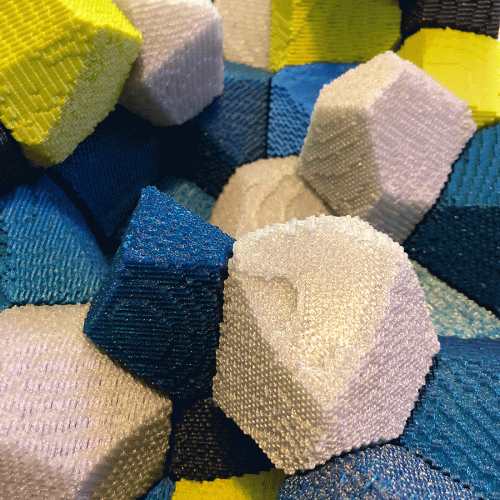 September 27, 2019 to January 10, 2020
Symmetry & Fracture: Works by Jenna Frye
Location: Q Level Gallery
The Sheridan Libraries are pleased to host a solo exhibition of work by maker/teacher Jenna Frye from her 2018 artist residency at the Hopkins Extreme Materials Institute (HEMI). Frye is assistant department chair of First Year Experience and coordinator of the Electronic Media and Culture program at the Maryland Institute College of Art (MICA). In "Symmetry & Fracture," she offers a way to connect physically with the complex research ideas of HEMI labs through hands-on exploration of mineral crystal systems and the grain boundaries of metallic materials. You are invited to playfully investigate and decide for yourself where or if the boundaries lie between.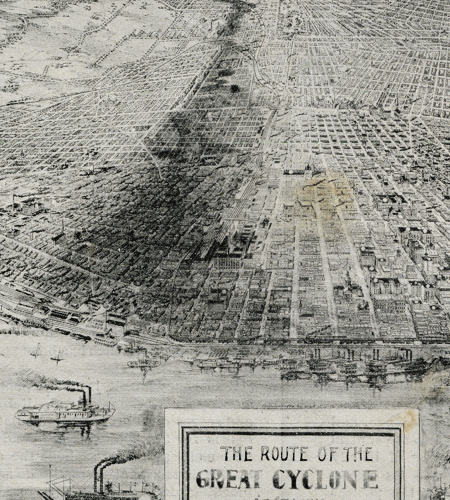 September 16, 2019 to December 1, 2019
Landmarks in the History of Natural Catastrophe Modeling
Location: M Level Exhibit Space
Natural hazards such as floods, fires, earthquakes, and hurricanes threaten human life and property every year across the world, and the risk of future losses is increasing due to population growth, climate change, and urbanization. The Sheridan Libraries are pleased to host this exhibit featuring important objects and documents that represent historic milestones in the development of catastrophe modeling in the United States, from the late 1800s to today. The exhibit also highlights Johns Hopkins researchers who made important contributions to risk modeling and management.
Organized by Gonzalo L. Pita, PhD, Adjunct Associate Scientist and Lecturer, Department of Civil Engineering, Johns Hopkins University. The objects on view are drawn primarily from private collections, along with related items from the Sheridan Libraries' holdings.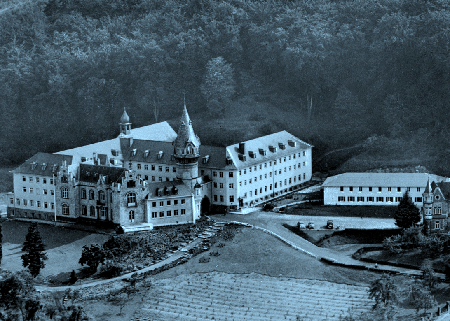 March 28, 2019 to May 1, 2019
The Rosenburg—The Federal Ministry of Justice in the Shadow of the Nazi Past
Location: Q Level Gallery
In 2016, an independent commission of historians released their study of the post-World War II establishment of the West German justice ministry. Named 'The Rosenburg Files' after the ministry's first official residence, the report revealed that the judiciary was a stronghold of former Nazi Party members until the 1970s. Organized by the German Federal Ministry of Justice and Consumer Protection, this interactive exhibition explores the Nazi infiltration of the justice ministry and the legal and political consequences for the young Federal Republic.
This is the second stop in the U.S. tour of the exhibition, which debuted at George Washington University in February 2019.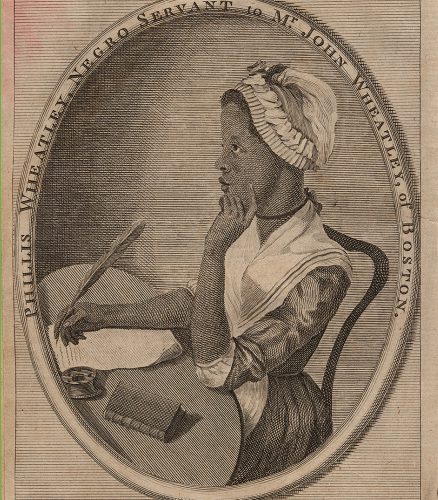 February 11, 2019 to May 24, 2019
Movements: Black Print Culture in the United States, 1773–1940
Location: M Level Exhibit Space
African Americans wrote, published, and read through eras of enslavement and segregation, at times defying legal restrictions, economic obstacles, and violence. In pamphlets, books, magazines, newspapers, and printed ephemera, they narrated their own lived experiences, expressed themselves in imaginative genres, and advocated for better social conditions. Featuring materials from the Sheridan Libraries' Special Collections, this exhibition examines the movement of black print culture: both its circulation, which forged bonds among American blacks, and its contribution to political and social movements of racial solidarity.
The exhibition is curated by Johns Hopkins English professor Nadia Nurhussein, and graduate students Samanda Robinson and Jarvis Young.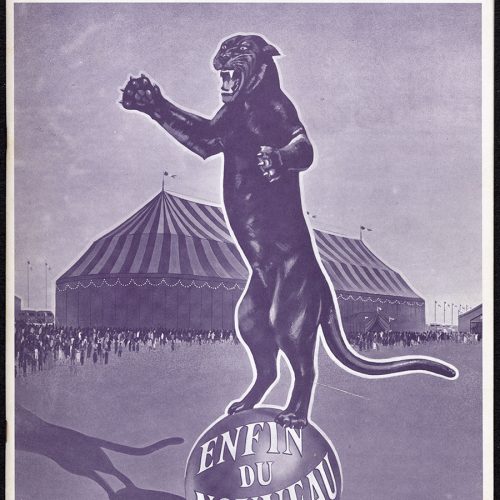 November 21, 2018 to February 4, 2019
Robho in Context
Location: M Level Exhibit Space
The journal Robho appeared in Paris during the turbulent years 1967–71, a period crowned by the explosive events of May 1968. Its stance was anti-consumerist, opposing capitalist expansion in France. Its purview extended beyond Europe, reflecting the increasing globalization of avant-garde thought and display, and united artists actively debating both their roles within society and the nature of art itself. Inspired by Robho's emphasis on new media, kinetic tendencies, and ephemeral performances, this exhibition features avant-garde materials by a diverse group of far-flung producers primarily in the 1960s and '70s, drawn from the Sheridan Libraries' Special Collections
The exhibition is curated by undergraduate students enrolled in Professor Molly Warnock's History of Art course, The "Long Sixties" in Europe.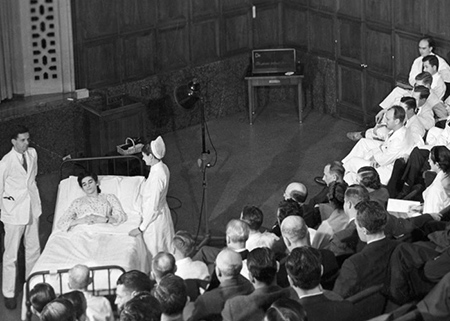 October 31, 2018 to March 18, 2019
The Johns Hopkins University School of Medicine: 125 Years of Tradition and Innovation
Location: Q Level Gallery
From the day the Johns Hopkins University School of Medicine opened its doors in 1893, it has pursued a mission to create a worldwide legacy of education, research, and patient care. To celebrate this remarkable 125-year history, this multimedia exhibition traces how faculty, students, staff, donors, and patients shaped Johns Hopkins, and how Hopkins in turn shaped modern biomedicine. Historical photographs of the institution's most renowned researchers are paired with tidbits of history to provide snapshots of singular moments, from the feminist philanthropists of 1893 to the innovative investigations and advances of the present. Also on view are digital facsimiles of treasured artifacts from the Alan Mason Chesney Medical Archives of the Johns Hopkins Medical Institutions.
The exhibition was organized by the Chesney Medical Archives and the 125th Anniversary Planning Committee of the School of Medicine. This is the exhibition's second presentation, following its East Baltimore campus installation, June 1–October 22, 2018.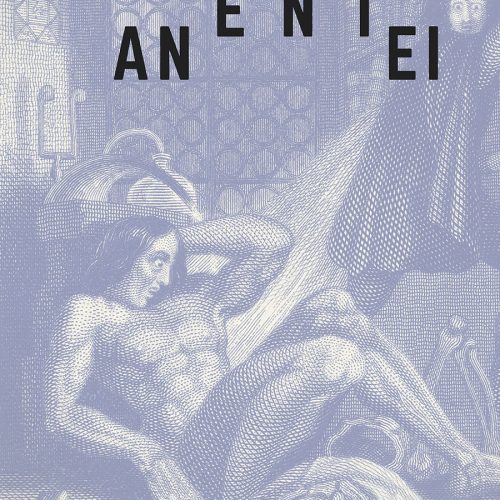 October 22, 2018 to November 30, 2018
Frankenstein: 200 Years in Print
Location: Stack Room
Where does our fascination with Frankenstein come from? And why has it lasted so long? This focus exhibition presents early and illustrated editions of Mary Wollstonecraft Shelley's famous novel, along with theater and film tie-ins and twentieth-century homages to the monster's tale—just a few examples of its remarkably full life in print. Frankenstein's history of prolific publication and adaptation demonstrates its ongoing popularity, and helps explain why it is now permanently bound up with our ideas about what it means to be human.
The exhibition is presented in conjunction with Johns Hopkins University's Frankenstein! Media + Monsters: Two Centuries of Frankenstein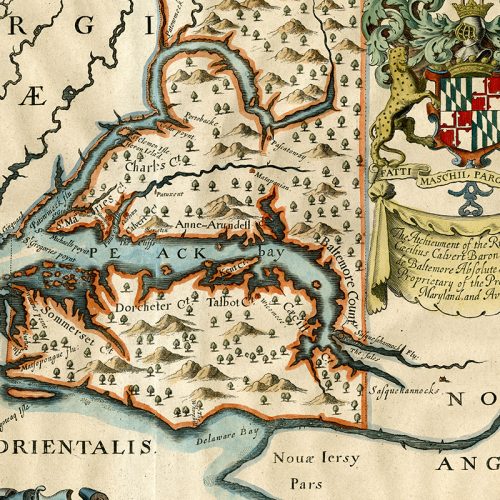 October 9, 2018 to April 8, 2019
Maryland, from the Willard Hackerman Map Collection
Location: Exhibit Gallery
From colonial impressions of the Chesapeake Bay to detailed city plans for guiding Baltimore's rapid expansion, this exhibition features over thirty of the most stunning and historically significant maps of Maryland from the collection of the late businessman, philanthropist, and Johns Hopkins alumnus Willard Hackerman. The maps are brought together with related rare books and prints, ephemera, and digital story maps to reveal the passion of a collector, the early mapping of Maryland, and the potential of combining historical maps with modern data to re-examine the past. Highlights include John Ogilby's "Lord Baltimore Map" from 1671, a hand-colored edition of Thomas H. Poppleton's 1822 "Plan of the City of Baltimore," and engraved views of Baltimore from the Harry N. Baetjer Collection of Historical Maps and Prints.
The exhibition celebrates the gift of the Willard Hackerman Map Collection from Lillian P. and Willard Hackerman to the Sheridan Libraries in 2016.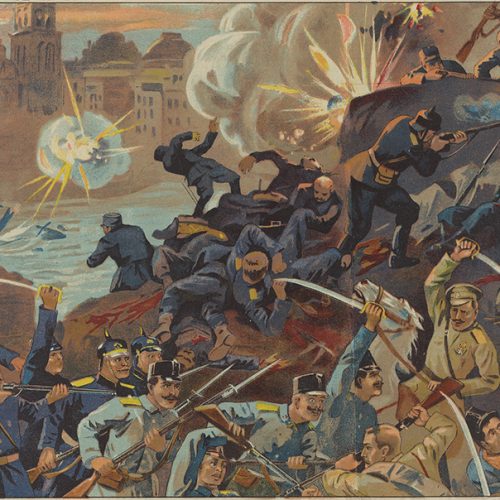 September 17, 2018 to November 16, 2018
"This book is not about heroes": Poetry and World War I
Location: M Level Exhibit Space
Commemorating the centenary of the Armistice that ended the First World War, this exhibition puts poems from the battlefield and the home front into conversation with historical photographs, maps, artifacts, and the correspondence of John Alexander, a Baltimorean and officer in the American Expeditionary Forces. World War I was conducted in flooded trenches, against chemical weapons, bombshells, machine guns, airplanes, and tanks. While many participants began the conflict in the high spirit of nationalism, conceptions of heroism, patriotism, and military ethics were re-examined and reformed under the war's punishing conditions. The poetry of the war testifies to the dramatic cultural shifts it prompted.
The exhibition is curated for the Sheridan Libraries by Lucy Eills (Writing Seminars, Class of 2018), recipient of a Sheridan Libraries / Alexander Grass Humanities Institute Dean's Undergraduate Research Award.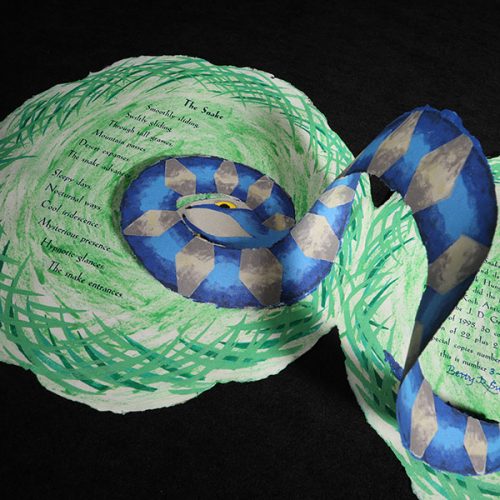 May 10, 2018 to June 1, 2018
Beyond the Text: Artists' Books in the Sheridan Libraries
Location: Special Collections Reading Room
Just what are artists' books? There's no one answer. They can be unique or produced as multiples; they can look like books or something else entirely; and they may or may not contain text. Though there is no one definition of an artist's book, the contemporary genre emerged in Europe and the Unites States in the 1960's, leading to galleries, workshops, and academic programs that center on book arts.
Like all works of art, artists' books can challenge, provoke, or be enjoyed purely for their beauty. Eight works by artists Barbara Beisinghoff, Maureen Cummins, Gloria Helfgott, Paul Johnson, Betty Sweren, and the collective Ediciones Vigia—all drawn from the Special Collections department of the Sheridan Libraries—showcase the diverse ways book artists interpret the possibilities of the book as object.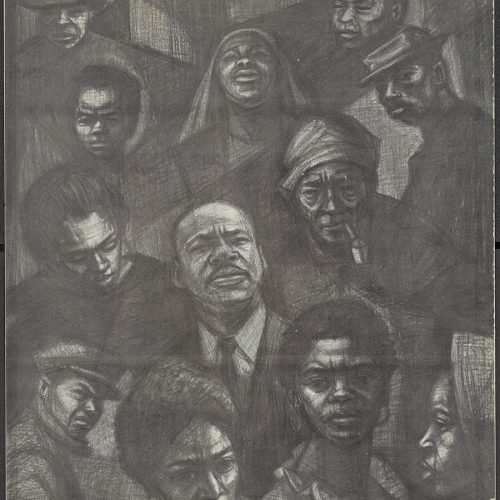 May 25, 2018 to September 7, 2018
The Spirit of '68
Location: M Level Exhibit Space
1968 was marked by war and protest, tragedy and revolution—a year around which a whole era of political turmoil, cultural change, and social unrest turned. This exhibition examines some of the many explosive events of 1968 and the period around this pivotal year. The photographs, posters, pamphlets, books, film footage, and archival documents on display focus on the assassination of Dr. Martin Luther King Jr. and the "Holy Week Uprisings" that followed in Baltimore; student activism on the Johns Hopkins campus; Vietnam War propaganda and protest; the "Mai 1968" unrest in France; the Black Power and Black Arts movements; and the emergence of what would become known as Gay Liberation.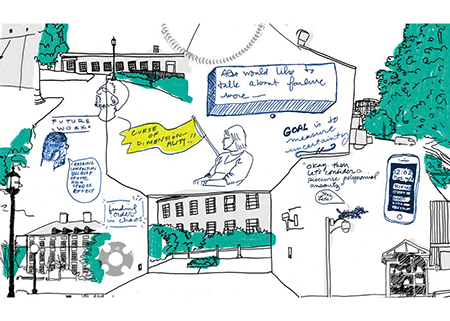 April 9, 2018 to May 19, 2018
Kimberly Hall: The Curse of Dimensionality
Location: Q Level Gallery
The Sheridan Libraries are pleased to host an exhibition of the work of Kimberly Hall (MICA Faculty, Illustration Practice M.F.A.) from her time as the 2017 Artist-in-Residence with the Hopkins Extreme Materials Institute (HEMI). Many artists rely on the occurrence of chance and mistake to help propel their work into new areas, and while that open-minded approach is sometimes elusive, it is often exciting. For this residency, Kimberly Hall of Nottene design studio explored the work of Dr. Lori Graham-Brady and her students, who also work with chance in their research of randomness in the behavior of non-homogenous materials, such as concrete and ceramics. Through Hall's conversations with this group, she was impressed with the ways the scientists described their process and felt it was deeply connected to the struggle of the human condition and making sense of the world. Hall has created a scratch-off wallpaper and transparent fabrics that aim to illustrate the practice of research and highlight the connection between discovery and meaning.
February 15, 2018 to March 2, 2018
Happy Birthday Frederick Douglass!
Location: Special Collections Reading Room
Frederick Douglass was born into slavery in Talbot County, Maryland, around 1818; the exact date of his birth was unknown to him, but he chose to mark it on February 14. He spent time in Baltimore as a boy and teen-ager and it was from Baltimore that he made his escape to the North. He became a key figure in the abolitionist struggle, writing his memoirs, publishing newspapers, and making speeches in support of freedom for Black Americans-as well as other civil rights causes.
This exhibit features first editions of some of his many publications, drawn from Sheridan Libraries' collections, in celebration of his 200th birthday.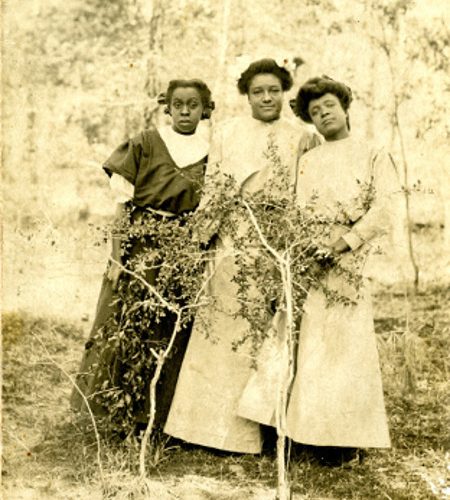 February 6, 2018 to May 11, 2018
American Selfie
Location: B Level Exhibit Space
How did Black Americans take "selfies" in the early twentieth century? This exhibit, curated by juniors Monika Borkovic and Lorna Henson, draws from their work in a recent Museums & Society class to explore intriguing examples of postcard portraits from the Sheridan Libraries' African American Real Photo Postcard Collection. Visitors can also take their own "historic selfies." Extended through May 11, 2018.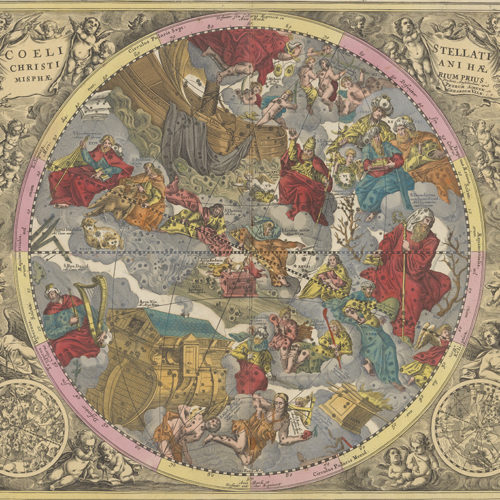 September 21, 2017 to January 31, 2018
Bibliomania: 150 Years of Collecting Rare Books at the George Peabody Library
Location: Exhibit Gallery
Over the past 150 years the George Peabody Library has captured, through its rare book and manuscript collections, America's deepest desires and vaulting ambitions to bring the history of the world and ideas to the City of Baltimore. This exhibition presents many of the richest and rarest fruits of George Peabody's early intellectual and bibliophilic aspirations, from the collection the library opened with in 1866 to the massive cast-iron expansion in 1878, which transformed the library into the glorious "Cathedral of Books" that it continues as today.
The exhibition is accompanied by a fully illustrated scholarly catalogue featuring essays by Earle Havens, Christopher Geekie, and Neil Weijer. It is available for purchase through the Homewood Museum gift shop by calling 410-516-5589.